A Realistic Roadmap for Digital Transformation in Labs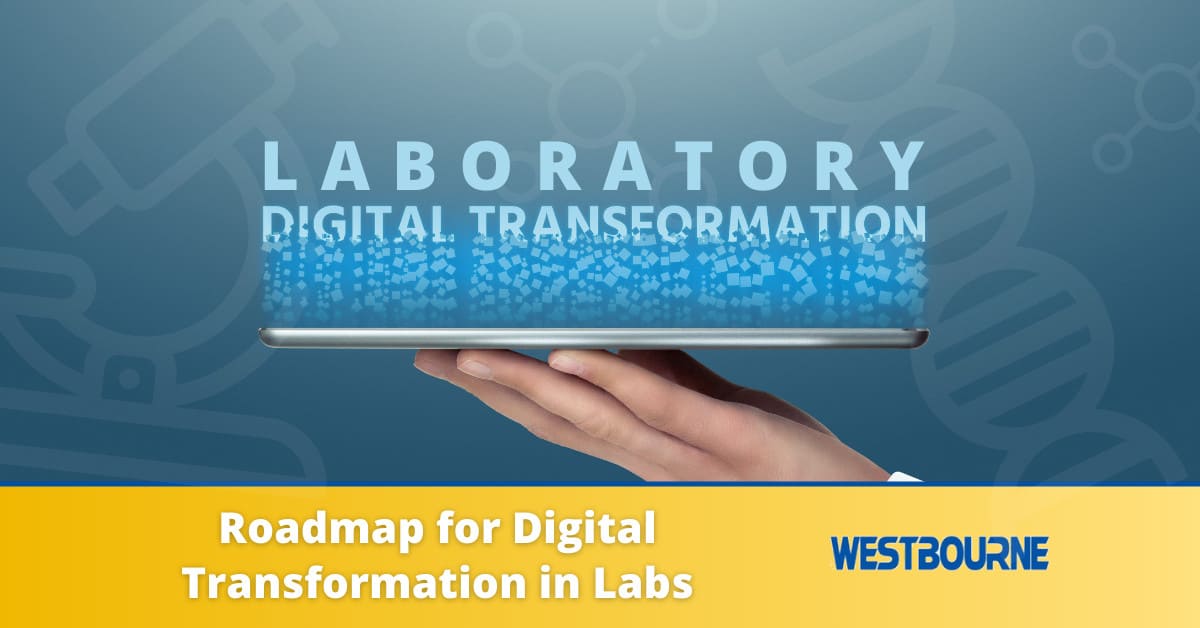 Buzzwords like the Lab of the Future and Lab 4.0 are becoming increasingly common, but each comes back to a concept that is important for all industries and sectors – digital transformation. That leaves a question that we will explore in this article: what is a realistic roadmap for digital transformation in labs?
The reality is that pharmaceutical and biopharmaceutical organisations are at varying stages of the digital transformation journey. Furthermore, the lab function within organisations is often at a different level of digital transformation compared to other functions. Usually, labs trail behind.
As a result, a lot of processes and workflows in labs are still paper-based. Others might be digitised in one way or another, but they are still manually completed with minimal automation or integration.
Modernising your lab through digital transformation will improve efficiency, productivity, and accuracy, while also contributing to the overall competitiveness and profitability of the organisation.
More details on the realistic roadmap for lab digital transformation is below. However, there are some important points to highlight first.
Before You Continue the Digital Transformation Journey in Your Lab
Before going further with digital transformation, it is important to first understand what digital transformation means. A good approach is to differentiate between digitisation and digitalisation. The two words have only a slight difference in spelling, but they mean very different things when it comes to digital transformation.
Digitisation – transforming analogue data (paper-based data) into digital data. This IS NOT digital transformation.
Digitalisation – where digital technologies transform processes to create business value. This IS digital transformation.
It is also important to understand why digital transformation in labs is important. The main benefits include:
Enhanced innovation
Reduced time-to-market for new products
Improved productivity
Better access to data
Improved flow of data across instruments, platforms, and equipment
Improved data security
Improved regulatory compliance and making compliance processes more efficient
Standardised processes
Reduced risks
Understanding the above benefits can help you get buy-in for a digital transformation strategy. It can also help in the development of business cases.
You should also make sure you include lab staff at each stage of the roadmap below and during project implementation. This will help ensure lab staff are on board with the changes that are coming, and it can address concerns and fears. Lab staff also know your current processes better than anyone, making their contributions and ideas invaluable.
Roadmap for Lab Digital Transformation
1. Identify a Digital Transformation Partner
Organisations typically don't have the internal resources to develop and implement a lab digital transformation strategy. The responsibility often falls to the lab team itself, as lab IT often falls somewhere between an organisation's IT and OT (operational technology) teams.
Therefore, it is important to partner with an experienced provider of lab IT solutions. The right partner will bring essential knowledge and expertise, as well as freeing up your internal lab resources so they can concentrate on essential day-to-day and value-adding tasks.
2. Digital Transformation Assessment
Most labs have multiple platforms from multiple vendors, different instruments and equipment, and varying integration requirements. Conducting a digital transformation assessment will bring clarity so you understand your lab's current level of digital maturity.
A digital transformation assessment should include process mapping and gap analysis. It is also important to focus on data, as the production and analysis of data is a core function of laboratories.
What data do you collect? Where do you source data? What data should you collect but don't? How is your data stored and processed? Who has access to your data? Where is the data shared?
Understanding the IT infrastructure and current IT architecture is important too, as well as the devices, instruments, and equipment in your lab.
3. Define Goals
The next step is to define your lab digital transformation goals, being precise about what you want to achieve and by when.
An example includes improving efficiency by increasing the number of tests per analyst per day. Improving lab turnaround time (TAT) is another example, as is reducing inaccuracies, lowering variance levels, or reducing operating costs.
4. Create a Lab Digital Transformation Strategy
In almost all situations, it is not feasible to do everything that is possible with digital transformation at the same time. Instead, digital transformation should be viewed as a journey. Creating a lab digital transformation strategy will help to structure that journey and keep progress on track.
5. Decide on the Priority Areas
You will now be at the point where you can decide on the projects you will implement first. Start with the priority areas and those that will deliver a healthy balance of return on investment and risk, i.e., maximum return on investment with the lowest risk.
Integration and connectivity are likely to be essential priority areas, as are establishing end-to-end workflows and enhancing automation.
Continued Progress Is the Key to Success
Labs often find they are waiting for the right moment to move forward on their digital transformation journey. Invariably, that right moment never comes, and they fall further and further behind.
The reality is that technologies are rapidly developing and labs across the world are moving ahead with digital transformation plans. The time to begin the next stage of your journey is now.