IT Procurement and Support for UK Companies with EU Staff and Operations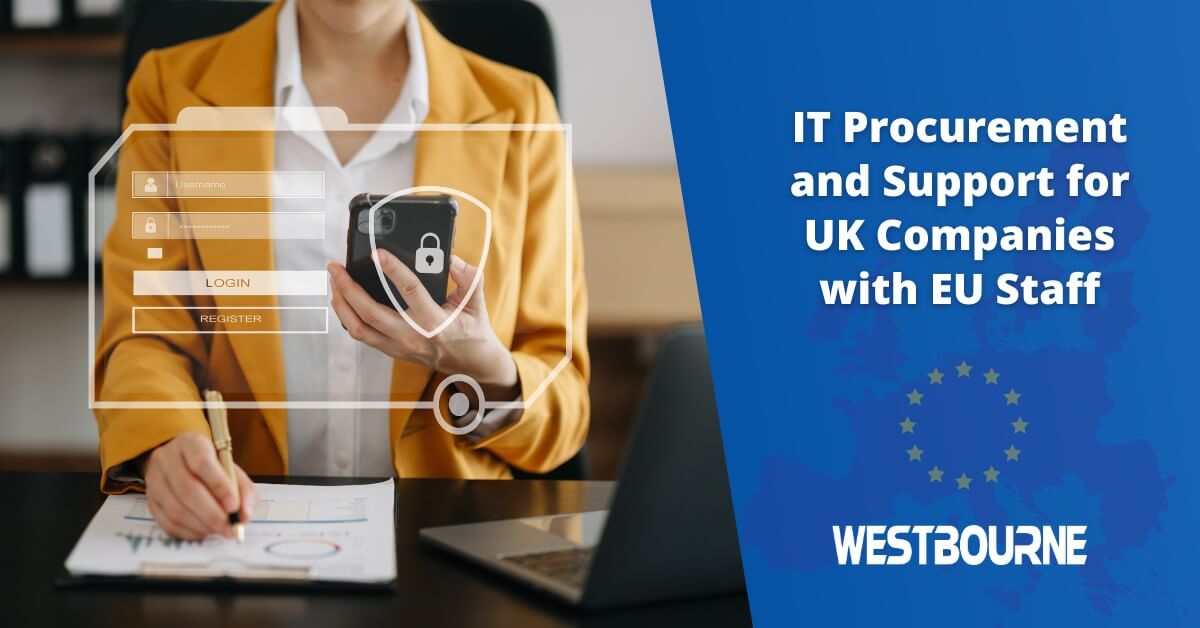 The UK leaving the European Union changed the way many businesses operate. Most headlines focus on the big issues, from the position of Northern Ireland to whether the UK is part of Horizon Europe, the EU's multi-billion-euro programme to fund scientific research. However, the new trading conditions also have day-to-day operational implications for many UK businesses – trading conditions that are potentially costly and undeniably complex.
This includes how you manage IT in relation to EU-based staff. Before Brexit, you could go to your regular UK-based IT partner to buy a laptop and other essential equipment for members of staff based in Ireland, France, or any other EU country.
Things are no longer this simple. The UK leaving the EU means the process of onboarding a new member of staff or upgrading the IT equipment of existing staff now involves Customs Duties, VAT, lots of paperwork, and a potential minefield of complexities.
There is a solution that will simplify the process of managing the IT of your EU-based staff and keep your costs much more in line with what they were before the UK left the EU. It's a device-as-a-service solution that is backed by EU-based IT support services.
Before going into the solution and its benefits, let's first explore the challenges of managing the IT requirements of your EU-based staff.
VAT, Customs Duties, and Other Costs
The cost of purchasing new IT equipment for EU-based staff is now higher than it was before the UK left the EU.
We can use an example of a member of staff based in Ireland. Before the UK left the EU, you could simply purchase a laptop and ship it to a member of staff. The only difference in cost between equipping an employee in Ireland and one in the UK would have been the cost of shipping and insurance – approximately €15 to €25 on a €900 laptop.
(Note we are using the Euro as the currency for this example as EU Customs Duties and VAT charges are in Euros).
There are now additional costs to consider. Here is an example calculation:
Laptop cost: €900
Shipping and insurance: €25
Total value for calculating customs (laptop cost plus shipping and insurance): €925
Customs Duty (0% on laptops – more information below): €0
Total value for calculating VAT (laptop plus shipping plus insurance plus Customs Duty): €925
VAT charged at 23% (23% is the Irish rate of VAT – other EU countries can charge different rates): €212.75
Total import charges (Laptop plus shipping plus insurance plus Customs Duty plus VAT): €1,137.75
Customs handling fee (we used Ireland's An Post customs administration fee for this example): €10
Total cost: €1,147.75
With the additional costs you have to pay, it is now about €220 (about £190) more expensive to send a €900 laptop to an employee based in Ireland.
More on Customs Duties
In the example above, the Customs Duty is 0%. This is because laptops and many other electrical devices have a 0% Customs Duty when imported into the EU. This is good news for UK-based businesses, but there are other complexities to consider – complexities that can be expensive.
An example we can use is a computer screen. Standard LCD computer screens also have a 0% Customs Duty, the same as a laptop. However, if the screen has a built-in television receiver, it is classified differently and comes with a 14% Customs Duty rate. You then need to add VAT as well as the customs administration fee.
Whether the Customs Duty is 0% or higher, it is now much more expensive to send IT equipment purchased in the UK to your employees based in the EU.
Resource Costs
The above section outlines the Customs Duty, VAT, and related costs that apply when sending IT equipment to your EU-based employees. There are also resource costs to consider, i.e., the cost of managing and administering the process. Given the complexity of the customs system and the amount of paperwork that is required, these costs are not insignificant.
Complexity and Risk
Staying on the theme of complexity, the example of the computer screen with a built-in television receiver demonstrates the unforeseen challenges that can arise. The reality is that the simple process of sending IT equipment to an EU-based employee now carries financial and compliance risks.
The Device-as-a-Service Solution
Our device-as-a-service solution eliminates the risks, complexities, and costs associated with providing your EU-based staff with the IT equipment they need to do their job.
Westbourne IT is an Irish company, so we are based in the EU. With our device-as-a-service solution, you contract us to manage the procurement and deployment of devices for your EU-based employees. As we procure your devices in the EU, none of the Customs Duty or import VAT charges described above apply.
Furthermore, as we have extensive experience providing managed IT services, our device-as-a-service solution is much more than simply supplying IT equipment. Instead, we can work with your IT team and/or partners to also provision devices so they are ready to go with apps, desktop images, cloud access, and anything else that is required.
We have designed the service to be flexible and seamless to ensure your EU-based employees get up to speed with their new devices immediately.
We can then also provide additional IT support and consultancy services as required.
Our device-as-a-service solution can be structured on a procurement basis where you own the device, or a rental basis, with the latter typically being on a 36-month contract.
Cutting the Cost of IT for Your EU Operations
Procuring and managing the devices of your EU-based employees doesn't need to be any more complex than your UK-based employees. You also don't need to pay the high import VAT and other charges when you work with an EU-based partner with extensive experience in this area.
Whether Brexit has broadly created opportunities or challenges for your company, you can eliminate additional IT costs and complexities for your EU-based employees. Get in touch with us at Westbourne IT to find out more.