Why Upgrade Your Lab to Windows 11 and How to Do It Successfully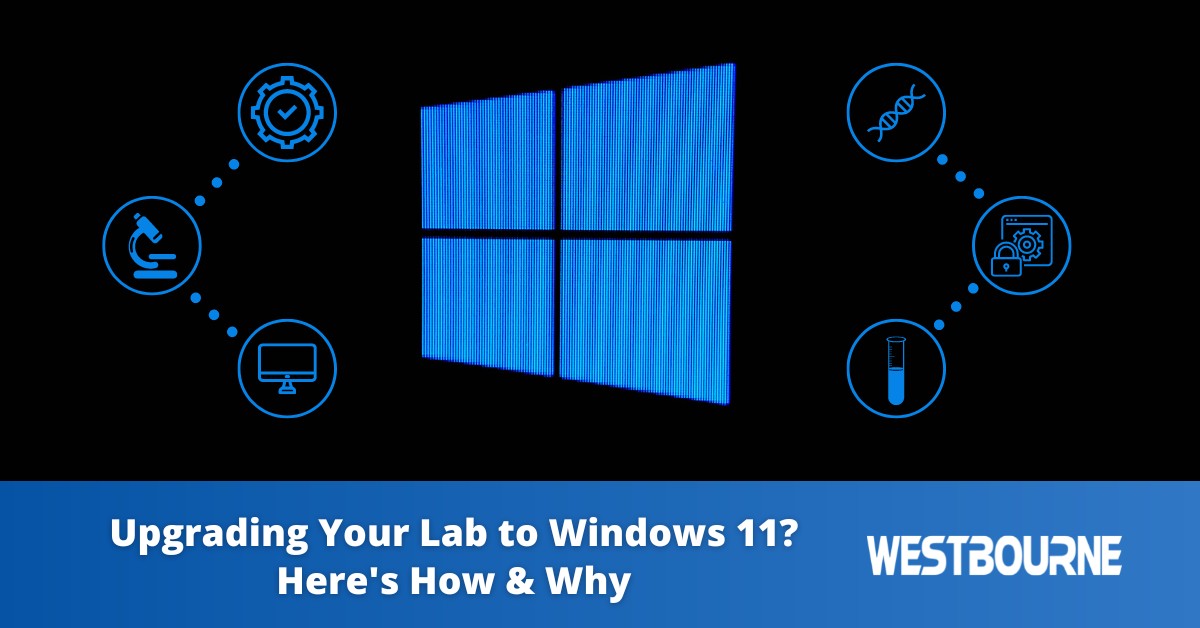 Operating systems are becoming more and more important in lab environments, not least because of the increased digitisation of equipment, workflows, and processes. For example, the operating systems running in your lab influence performance and productivity. They also impact risk management and continuous improvement readiness. So, should you now put in place a strategy to upgrade to Windows 11?
Upgrading to a newer version of Windows is only one part of the equation, as you also need to properly plan and execute the upgrade. This involves using a methodical process that takes account of your IT infrastructure, lab instruments, lab staffing, IT resources, lab workflows, and anticipated future requirements.
The Unique Environment of a Pharmaceutical Lab
All lab environments are customised based on the products tested, equipment used, availability of resources, and physical location. As a result, there is no one-size-fits-all solution for Windows upgrades. Instead, upgrading your lab to a newer version of Windows requires a bespoke process to accommodate your workflows.
Upgrading Windows also requires a very structured approach as lab environments are not like the typical workplace. In a typical workplace, the main considerations are IT-related. In labs, IT considerations are equally important, but there are also substantial compliance considerations, including the requirement to capture data and produce documentation along the way.
An example comes from a Windows upgrade project that we completed for a pharmaceutical customer. Here are two specific issues that we had to overcome – issues that don't apply outside the pharma industry:
IT issue – the audit trail log was not compatible with the new operating system, but the historical data needed to be retained for compliance purposes. We had to develop a solution. In this case, the routine backups we were taking of the audit trail logs helped to resolve the issue.
Compliance issue – the migration of methods and protocols to the new operating system was complex as we needed to control and confirm that all parameters and functionalities remained intact during the export and import processes.
Why Upgrade Your Lab to Windows 11?
Older Versions of Windows Are No Longer Supported
Support for older versions of Windows has ended, making an upgrade to a newer version of Windows an important consideration.
To put this into context, Microsoft is no longer releasing security updates for older versions of Windows. As a result, any machines or equipment running older versions of Windows are at an enhanced level of cybersecurity risk.
Running a supported version of Windows creates a better foundation for compliance, including in relation to data integrity, as Microsoft will continue providing security updates, bug fixes, and performance improvements.
Enhanced Standardisation
Most pharmaceutical labs have multiple versions of Windows running at the same time. This type of situation occurs naturally as new computers, equipment, and instruments are added to a lab environment over time.
Your lab is likely to be in this situation, so it will have devices running old versions of Windows. Windows 7 is one of the most common examples.
Having multiple versions of Windows in your lab increases complexity. Your lab's IT will also be more difficult to support, and you will face higher data loss and cybersecurity risks.
By upgrading to Windows 11, you will increase consistency and achieve standardisation across devices. This will reduce management and support costs, improve efficiency, and reduce risks.
Windows 11 Is Better
Upgrading to Windows 11 isn't just about getting access to patches and upgrades, though. Another main advantage of upgrading is that Windows 11 has more advanced features than older versions of Windows, particularly security features.
Windows 11 Is Now Well Established
One of the reasons for delaying an operating system upgrade is to wait for the software to become stable. This point has long since passed as Windows 11 is now a very well-established and robust operating system.
Reduce Licence Costs
The process of upgrading to Windows 11 also often results in reduced overall licence costs, as the process starts with an audit of your current infrastructure.
By getting a complete overview of the machines, equipment, instruments, and apps in your lab, you can optimise your licences and get the best discounts and deals.
How to Upgrade to Windows 11 Successfully
Partner With an Experienced Provider
The first step is to partner with a Windows 11 upgrade provider that has experience in pharmaceutical labs. That experience should cover compliance, the equipment and systems commonly used in labs, and validation requirements. The latter is essential as GXP systems will require requalification and validation as part of the Windows 11 upgrade process.
Implement a Tried and Tested Strategy
The next step is to customise and implement a tried and tested Windows 11 upgrade strategy. An experienced provider will take the lead on this process. At Westbourne IT, for example, we have robust procedures to ensure Windows 11 upgrade projects in labs are a success.
When creating your Windows 11 upgrade plan, it is important to include all stakeholders in the process, including the lab personnel who will be using the new operating system.
The strategy you implement should also include a thorough assessment of your current IT landscape, including the computer equipment, lab instruments, and other machines in your lab. The audit and assessment should also cover lab software and other apps, as well as workflows and integration requirements.
From this audit and assessment, a plan can be put in place that includes upgrading software and hardware where necessary, as well as developing app packages and delivery methods. Testing should also be part of the process, including Windows 11 deployment testing and device performance testing.
Training and ongoing support should be included too – training for lab personnel to ensure they are comfortable with the new operating system, and ongoing support to deal with any issues that arise during and after the upgrade process.
Optimising for Today and Preparing for the Future
It is difficult to overstate the importance of operating system standardisation and ensuring you are running a supported version of Windows. Both are crucial objectives for labs in the pharmaceutical industry – upgrading to Windows 11 will help you achieve them.
You will get a return on investment from the process, too, as your lab will be optimised for the processes you need to complete today, while also helping to prepare for the future.