Making the Most of Empower CDS Through Expert Training and Support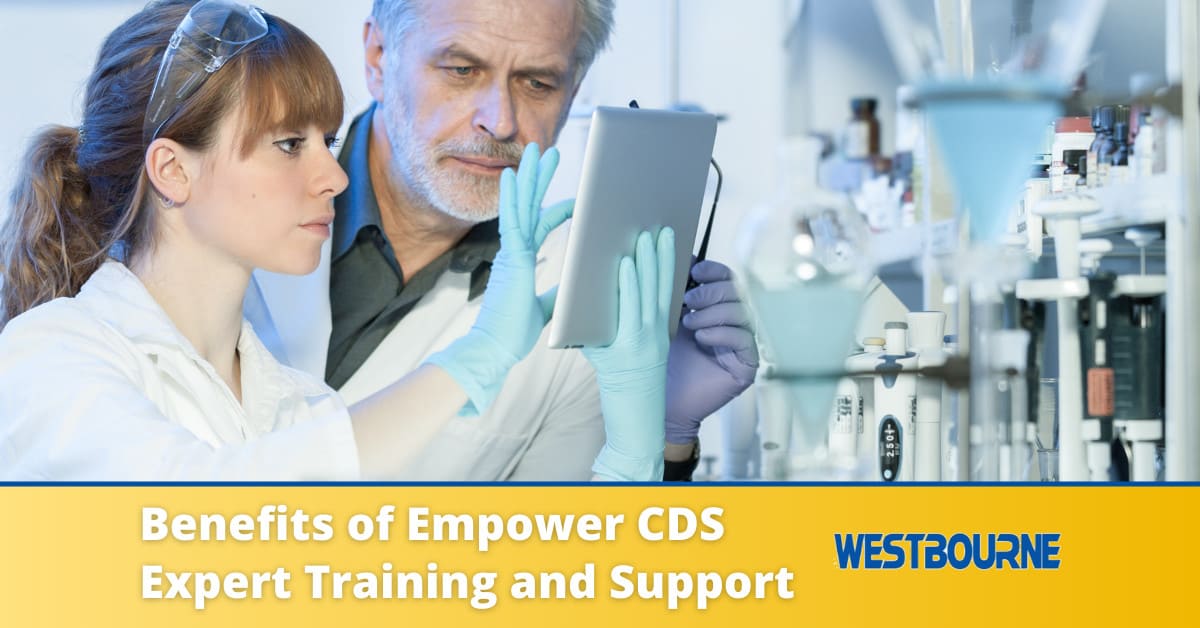 The Empower Chromatography Data System (CDS) is a powerful and highly effective platform that has the potential to deliver a range of benefits to labs of almost any size. To realise the benefits, however, your team needs Empower CDS skills and knowledge, as well as ongoing support.
While the platform has a user-friendly interface, there is still a learning curve. As with other leading software solutions, having access to ongoing support is also essential.
There are six main reasons your lab should consider expert Empower CDS training and support.
1. Return on Investment
Empower can modernise and automate workflows in your lab, in addition to improving how you capture, use, and store data. It is also a platform that requires a sizeable investment, however, so it is important you get a return.
High-quality training by Empower CDS experts will get your team up to speed with the platform as quickly as possible, helping ensure the software is used to its full potential. With the right skills, your lab and quality management teams will make fewer mistakes, plus they will have the knowledge they need to continuously improve processes, optimise workflows, and cut lab costs.
All the above will have a direct and positive impact on your bottom line, boosting ROI.
The same applies to support, as issues encountered by your team can lead to downtime or a reverting back to inefficient manual and paper-based processes. By having Empower CDS experts that you can call on, issues can be resolved quickly to get the operation of your lab back to normal.
2. Training That is Fully Customised to Your Requirements
There are multiple Empower CDS training options available, from online courses to video tutorials to manuals and how-to guides. However, none of these training resources are tailored to your lab or requirements.
The best Empower CDS training for your team is customised training, i.e., training tailored to your workflows, processes, lab equipment, lab resources (the capabilities and skills of your team), and the wider needs and objectives of the business.  After all, every laboratory is different.
Customised training also makes better use of your lab team's time, while ensuring they have the specific skills they need to make your Empower CDS implementation a success.
3. Implementation and Integration Support
When implementing Empower CDS for the first time, it is essential you have high-quality support covering your lab, quality management, and IT teams. This includes support to plan the implementation, specify the requirements, and configure the platform, as well as for testing and qualification.
Implementation and integration support don't end once you get Empower up and running, as your lab will change over time. For example, having access to expert support will simplify and improve the process of integrating new instruments, equipment, or measuring stations.
Ongoing professional support can also help with applying patches and updates to your Empower CDS implementation.
4. Problem Resolution
While Empower is a reliable and robust lab platform, issues can and do arise, even when you have a well-trained team. Therefore, you should have a plan in place to deal with problems quickly. Having access to expert support is the solution.
5. Optimisation Support
With Empower CDS and the right support, you can continuously improve and optimise the operation of your lab. Some ongoing optimisation examples include:
The development, implementation, and validation of custom fields
Optimising reports
Replacing manual calculations and transcription with customised and validated calculations and filters
Audit preparation and readiness assessments
In general, optimisation support is about ensuring Empower CDS is being used to its maximum potential according to the requirements and functions of your lab.
6. Validation Services
The successful validation of computerised systems is a critical aspect of any software deployment in a regulated environment. Leveraging expert validation services, as suggested by GAMP5, reduces the time and effort required.
Our validation specialists are trained and have experience in helping customers create, implement, and document validation activities according to regulatory requirements to ensure readiness for internal or external audits.
Empower Training and Support by Westbourne IT
At Westbourne IT, our team of Empower CDS experts has extensive experience in providing training and support services to labs across Ireland. We work with labs of all sizes, from small labs up to multinational enterprises, plus our training and support services are fully customised.
In terms of training, we can help with any requirement you have, from basic Empower CDS training for new employees to training on reporting or custom fields functionality to training on advanced processing and everything in between.
As for support, you can expect a fully customise service from Empower professionals focused on the requirements of your lab. Our experts will become an extension of your team.
To find out more and to discuss your Empower CDS training, validation and/or support requirements, please get in touch.