Lab IT Trends in the Pharma Sector to Be Aware of in 2023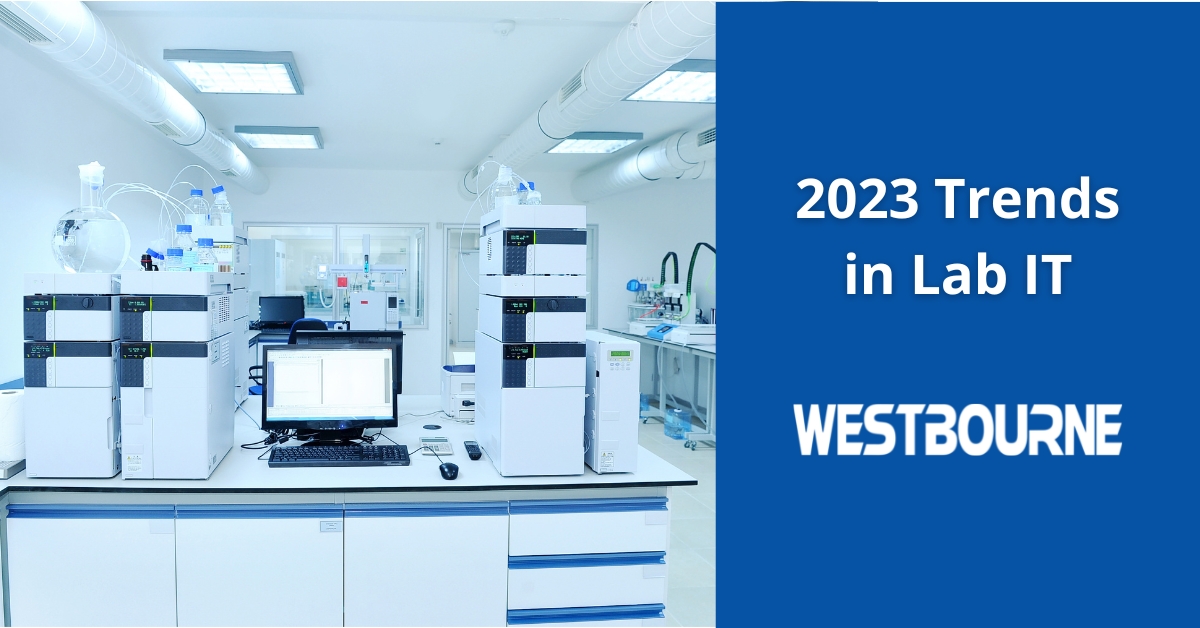 Buzzwords like Lab 4.0 continue to be mentioned as pharmaceutical labs plan for the future while delivering on day-to-day requirements. What are the Lab IT trends that will influence your decision-making in 2023 and beyond? What are your competitors doing and what should you be aware of to ensure you optimise across all crucial areas, including patient safety, productivity, compliance, information accuracy, and efficiency?
Here are four of the key trends and developments that will impact lab IT operations in the months and years to come.
1. Windows 11 On the Agenda
Laboratories in the pharmaceutical sector often have a majority of machines running versions of Windows older than Windows 10. This puts the sector behind many others, as Windows 10 isn't yet the common standard. There are many reasons for this, including the use of traditional methods of computer system validation, the prevalence of legacy computer systems, and an often-cautious approach to compliance.
New technologies are set to change this in 2023 and beyond. It won't be an overnight change, but change is all but inevitable. This is because of the way new technologies, particularly those within the Microsoft stable, are now being built specifically for Windows 11.
The availability of support is also a crucial consideration, as Microsoft has published plans to discontinue support for older operating systems, including Windows 10:
Windows 10 (including the Enterprise, Pro, Home, and Education editions) – support ends on 14 October 2025 for all versions, with some ending sooner.
Windows 8.1 – support ends on 12 January 2023
Windows 8 – support has already ended
Windows 7 – support ended in 2020
What the above list means is that you will no longer receive security updates for machines still running Windows 8.1 or older. For machines running Windows 10, security updates will be available for less than three years, and maybe even less than that.
The best advice is to start planning your Windows 11 migration now. The thought of such a technical project can be daunting, but much of the strain and heavy lifting can be done by RPA tools – robotic process automation. RPA tools automate a significant proportion of the Windows 11 migration process while also reducing human error and optimising end-user support.
2. Increasing IT/OT Convergence
IT/OT convergence is both a priority and a reality in pharmaceutical operations. For example, more and more pharmaceutical operations are implementing modern MES (manufacturing execution systems) to deepen and improve the vertical integration between ERP (enterprise resource planning) systems at the business level with SCADAs and PLCs at the operational level.
Laboratories must be included in this equation with, for example, the integration of LIMS platforms with ERP, MES, and other crucial systems. This push for integration, alongside an increasing use of data, requires a convergence of IT (information technology) and OT (operational technology) in all areas, including strategy development, infrastructure planning, application and operating system decision-making, lab capital expenditure, support, and performance monitoring.
3. Making Better Use of Data
The production of data is a core function of any pharma lab. However, collecting data is typically the easy part. For example, you can purchase an instrument and then use it to produce data. It's the next part that is more challenging. How do you efficiently use the data you have collected in the most optimal way possible?
Implementing a strategy to optimise the use of data is the next trend on our list. It is a trend that has been applicable for many years, but it is now more important than ever.
After all, data is becoming increasingly digitalised, standardised, integrated, stored in the cloud, and applied using machine learning and similar advanced technologies.
For example, it is no longer efficient to have single-direction data transfer processes. Modern pharmaceutical labs now need bi-directional data transfers to fully optimise workflows and processes. In other words, instead of an instrument transferring data to a LIMS, you should have data flowing in both directions – LIMS to instrument and instrument to LIMS.
The benefits of making better use of data in your lab include:
Increases automation in lab workflows and processes
Enables data-driven decision-making
Makes lab operations more efficient and productive
Reduces human error
As laboratories are crucial components of wider business operations, improvements in the way labs use data also contribute to productivity and efficiency gains outside the lab, both upstream and downstream.
4. End-to-End Workflow Automation
Automation was mentioned in the previous point, but it is important enough to be talked about as an ongoing trend in itself.
Automation is not a new phenomenon in pharmaceutical labs, but it is often stop-start, i.e., automation-in-isolation. For example, purchasing a machine or instrument to automate a step in a much larger workflow or process. Automating that step does deliver benefits, including accuracy, speed, productivity, and efficiency benefits. However, the full potential of automation is not realised when other steps in the process are not also automated.
As a result, pharmaceutical labs are increasingly looking at options for end-to-end workflow automation where all steps in a workflow are fully or partially automated.
A Time of Opportunity for Pharma Labs
There are other IT trends that are also relevant to pharma labs in 2023. For example, we can expect to see an increasing use of machine learning technologies, including those that involve NLP (natural language processing). The importance of cybersecurity is also growing in importance, plus there are the ever-evolving regulatory frameworks that apply to pharma labs.
All these IT developments are connected to the four main lab IT trends highlighted in this blog.
One underlying current through all the points above is opportunity, i.e., the opportunities that new technologies and lab IT strategies present to the pharmaceutical industry. With support from the right experts alongside best-in-class tools, you can take advantage of migrating to a modern operating system and application infrastructure. You can also benefit from enhanced workflow automation, better use of data, and the convergence of IT and OT.
To learn more, get in touch to speak to one of our lab IT specialists today.