Leading IT Projects In Pharmaceutical QC Laboratories – How to Achieve Success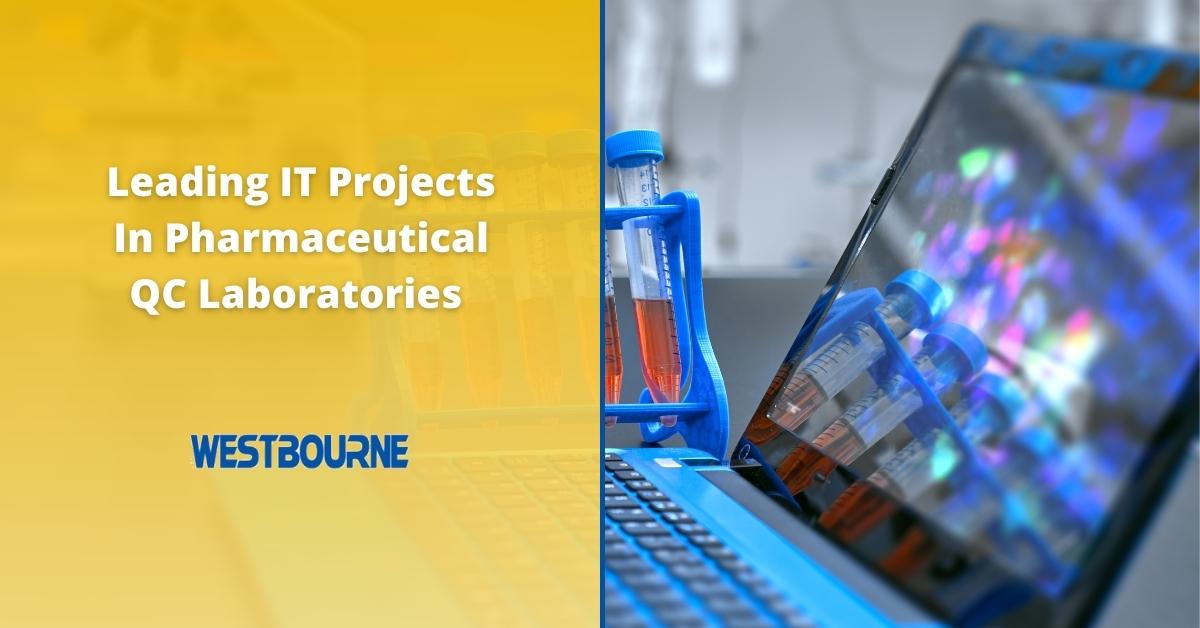 IT projects are often difficult to implement successfully, whatever industry you are in. The challenge of implementing an IT project is enhanced if you operate a QC laboratory in the pharmaceutical industry, so are subject to stringent regulations, including CGMP regulations.
Common factors that influence the success of an IT project include:
Technologies, or lack of technology, currently in your lab
Lab instrumentation
Existing workflows and processes and their complexity
Nature of the testing tasks you are responsible for conducting
Lack of IT standardisation across the industry, even in terms of the terminology that is used
The in-house IT capabilities of your team
Navigating the above factors is essential to ensuring the successful implementation of an IT project in a pharmaceutical QC lab. This is in addition to the standard factors that apply to all IT projects, including device specification, future-proofing the technology, cybersecurity, and training.
How do you achieve success in IT project implementation? How do you deal with the challenges while at the same time ensuring the project is completed on time and on budget? How do you ensure user requirements are met, how do you maximise user adoption, and how do you ensure business value while optimising return on investment?
The first step is to appoint a project manager and delivery team.
Appointing an Experienced Project Manager and Delivery Team
Appointing a project manager and delivery team can be tricky. After all, there are lots of IT companies offering project management services across Ireland, but very few have experience in regulated sectors, even fewer have experience in the pharmaceutical industry, and fewer again have experience in QC lab IT projects.
If your IT project is to implement a specific system such as a LIMS platform, you might have an alternative option – using a project manager from the vendor. This approach will undoubtedly provide you with highly relevant expertise and knowledge about pharma QC labs, so addresses the problem highlighted above.
However, a project manager and delivery team working for the vendor will be focused on their platform or system, rather than your business needs, user requirements, workflows, processes, staffing realities, and day-to-day challenges.
The best approach is to appoint a third-party independent project management and delivery team that has a background and successful track record in the delivery of IT projects in pharmaceutical QC labs.
Their experience should cover the full project lifecycle, they should have in-depth knowledge of the main platforms and systems used by pharma QC labs, and they should have an extensive understanding of lab instruments, processes, workflows, documentation requirements, and user requirements, as well as common bottlenecks, challenges, and limitations.
Regulatory knowledge is essential, too, as is validation expertise and the ability to work with in-house IT and operational technology teams.
Then there are the skills that are important in all project management roles, including leadership, communication, risk identification and mitigation, change management support, time management, critical thinking, teamwork, and problem-solving.
Focus on Planning
Planning is the most important part of implementing an IT project in a QC lab. There are a number of points and factors to consider during the planning phase:
Defining the short, medium, and long-term goals and objectives of the project
Defining how you will measure success
Identifying strengths, weaknesses, opportunities, and threats (through a SWOT analysis)
Developing an operational plan that will deliver on the overall strategic plan. This plan should include a schedule and the assignment of responsibilities.
Effective Implementation
The key steps when implementing an IT project in a QC lab include:
Process and workflow analysis
User requirements definition
Instrumentation audit
Technology audit
IT architecture design and road mapping, including cloud strategy and cybersecurity
Technology and platform selection
System development, customisation, and integration
Installation and commissioning, including data migration
Validation
Training and Ongoing Support
IT projects in pharmaceutical QC laboratories don't end after the installation, commissioning, and validation phases. To ensure success in terms of technology implementation, ongoing user adoption, process improvement, and return on investment, training and ongoing support will be required.
Both are essential to help with the change management process, as well as to ensure your lab gets maximum benefit from the new technology that has been implemented.
The Expertise You Need
At Westbourne IT, we have the experience and knowledge that you are looking for to ensure the successful delivery of IT projects in your lab. We have a track record of success working with QC labs in the pharmaceutical industry, and we'll bring extensive expertise to your project. Get in touch to arrange a consultation.